A Curriculum for Music for the Future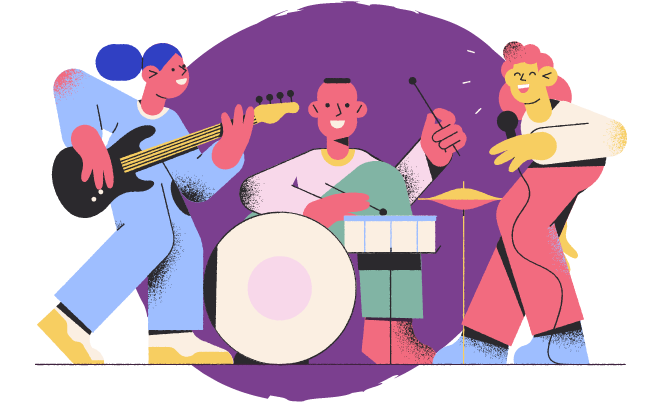 Today, music teaching curriculum in schools are many and well structured; however, basically they focus only on one methodology and lack a more comprehensive approach. At the same time, there are still many realities where music is seen just as recreational.
The aim of the Intellectual Output 2 (IO2) will be to develop an inclusive music learning/teaching curriculum (including overall methodologies, practical guidelines, pedagogical strategies, personalized approaches, case studies...) with specific focuses on the links with other disciplines and digital/blended teaching/learning, and to test it in classroom/school settings during two school years (2021/2022 – second term in a first pilot activity - and 2022/2023).
Based on the fundaments set in IO1, the Intellectual Output 2 aims successfully translate the framework into practice by going beyond single experiences and techniques: the curriculum must be embedded in a fertile environment. To this end, the Curriculum will be designed on target groups, needs, expectations and experiences. It will be tested in real class scenarios to be anchored to reality, challenged, and to allow for fine-tuning.
Target Groups
Primary Targets: Educational Staff of the Partners Organizations
Directly involved in the design of the Curriculum: 2-5 professionals from each partner organizations: Fondazione per la Scuola and Università della Valle d'Aosta will be involved with 2/3 experts each, other partners with 4-5 each.
The input from local schools will be granted through the connections with Fondazione per la Scuola - Pequeñas Huellas, in Turin (5 schools), IV Circolo Didattico di Piacenza (1 school) and CHMI in Helsinki (3 schools).
Directly involved in the in class testing phases: from 4 to 10 teachers for each school (full partner, associated or external) and 4-6 musicians from Asociacion Crecer con la Música, Pequeñas Huellas, Central Helsinki Music Institute for a total of around 55 teachers and 20 musicians.
Secondary Targets: Students
Designed modules will be tested in pilot activities in each local hub (Piacenza, Turin, Helsinki, Madrid) involving for the first school/year (second term) from 35 to 350 students and for the second year from 70 to 700 students aged 6 to 12 including students facing social disadvantages.
Element of Innovation
Full recognition of music as a tool to promote soft skills, creativity, resiliency, life and transversal skills, technical skills, trust and self-confidence in the students;
Social development, inclusion, and empowerment as primary goals of the curriculum;
Blending of universal features and personalized elements;
The curriculum will develop a specific strand of activities dedicated to digital and hybrid learning/teaching activities including international distance cooperation, use of social media for creative purposes, platforms...;
School as a Community approach: the involvement of families/social community as a tool to promote social integration and stronger relationships;
Formal and informal link with other disciplines embedded in the curriculum development, based on current partners experience;
Group teaching: all Movement activities will be based on the group dimension (chorus, orchestras…) to provide students with the opportunity of feeling part of a group and collaborate together;
The teachers' approach will disrupt the idea of teachers as a directors. Their role will be more to accompany the students in the training process as a trusted older brothers;
Peer to peer approach: students as peer teachers and supporters of their classmates allowing for the creation of a community;
Activities designed to be playful, involving the body, valorising cultures from minority groups, co-created using references to the present and to what students like, etc so to engage pupils fully.
Expected Impact
Equipping the primary target group - educational staff - with a specifically designed Curriculum to implement the Movement approach;
For primary and secondary target experiencing innovative learning experiences (related to music);
Pupils involved are expected to gain and improve a set of basic, transversal, life and social skills, technical skills, self-confidence, creativity and resiliency;
Within school institutions: educational staff will be able to transfer their knowledge and expertise to fellow colleagues benefitting partners and communities.
Transferability
The key elements of the curriculum can be used in relation to other age brackets, disciplines (in particular artistic disciplines and transferred to a broader audience dealing in particular with vulnerable youth or adults. This because the Curriculum design allows for flexibility and personalization of the approach.
Covid-19 Emergency Strategy
Although not optimal, the Curriculum Design can be done also remotely and testing can be adapted to potential restrictions also through Embedded digital/blended activities.
Partners will be able to adapt activities thanks to the experience gained during the 2020 lockdown.
Curriculum will be the referring point for the Risk Assessment Plan.
Activity Leader and Partner Roles
Activity Leader: Colegio Manuel Nuñez de Arenas supported by all project partners